Learning has never been so fun!
May 29 2019 – #SHU2019 enters our lives
May 29, 2019 – # SHU2019 enters our lives
Matera, European Capital of Culture. Sunny morning. Marcella, Lucia, Franco, Anna and I are climbing the bare and sunny paths trying to reach the rock churches. We are all partners or friends of EARTH GARDENERS (EG). Alessandra phones and informs us that # SHU2019 will be held in Foligno from 5 to 7 July. It is a 48 hours' hackathon [1] whose title is "Create an app for the environment". It seems something specifically thought for us, she says, even if some of us don't even know what a hackathon is! There follows a brain storming session among the "Sassi" after which we are all utterly enthusiastic about the new challenge and so we soon start outlining the basic concept of the app: a videogame for children between 7 and 11 years old that will make them understand how in nature there are different habitats, in each of which only determined plants and animals can live and prosper while other species, introduced more or less responsibly by man, can create very serious damage to the original environments. Alessandra submits the application form to # SHU2019.
June 4 – # SHU2019 comes into our lives 
From # SHU2019 we are informed that our idea is one the six ones shortlisted among the many applying to participate in the hackathon and they also assign us a team manager: Riccardo Pizzoni. The association rejoices. Two of us will represent EARTH GARDENERS: myself as the English-speaking vice-president of the association (English is the official language of the marathon) also skilled in cartoon animation and video making, and Anna, as the president of the association and expert on Mediterranean biodiversity. And now it's time to start the work of resetting and updating the archives of images and data that we will be needed to create the contents of the app.
July 4, 3:00 p.m. – Foligno welcomes us
Anna and I arrive in a hot and beautiful Foligno and we immediately head for the Study Center accreditation office. There we meet Altheo Valentini, the organizational mind of # SHU2019, a very friendly person with great managerial skills who can, with grace and professionalism, deal with complex situations by finding solutions to small and big problems arising from the management of such a big event. A Super Hero, in short!
6:00 p.m. – showcasing ideas and  setting up teams
The over one hundred participants, coming from many European countries, are gathered in the main hall of the Foligno Study Center for greetings, presentation of app projects and setting up of workgroups. I present the basic ideas for the development of our "ALIEN?" App in English, the official language of the meeting.
Our workgroup consists of 12 members. We are assigned the place where we will spend the next 48 hours' work: a long table in the assembly hall with a chalkboard. Soon it's dinner time; our team manager, Riccardo Pizzoni, proposes to introduce each other while having dinner.
8:00 p.m. – At the "Il Cavaliere" inn a formidable workgroup was born
After ordering dinner, everyone tells something about themselves: skills, competences, interests. Our names and smartphones start to be intertwined in a Whatsapp chat.
To make our app come true it will be necessary to put at work and integrate individual skills so that a collective work can result. To turn the project idea (which had started from EARTH GARDENERS environmental expertise) into an Android app many skills are required … and it seems there are just all of them! Maybe they are still in the dark, but Riccardo soon recognizes and uses them all to the fullest: it is something I'll never highlight enough.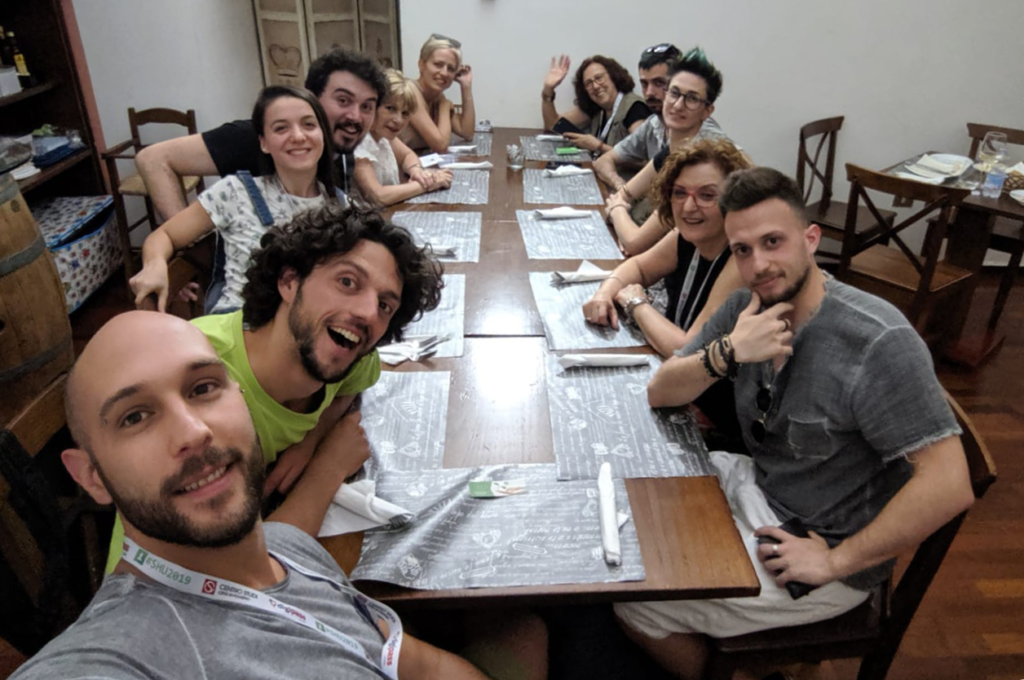 At the "Il Cavaliere" inn we get to know each other and become a team. After dinner, we return to the Study Center to focus on sharing goals and start processes. Anna and I answer questions from the people who will put together the digital architecture of ALIEN?w. Gradually we make some progress among proposals and objections; finally, the general picture is outlined. Riccardo assigns each of us tasks. Now everybody in the Centre calls us "the Aliens" and we too define ourselves as such.
July 5 and 6 – 48 hours' non-stop work
Around the table, through silences and mumblings, different local accents blend. The keyboards tick away without stopping: the challenge has begun. Images, texts, sounds, travel from one computer to another. Problems arise and solutions are devised.
ALIEN? is taking shape. The digital architecture is filled with contents. Images and texts are extracted from the EARTH GARDENERS archives. We are lucky we can use Rossella Faleni's scientific drawings and, when it comes to the habitat pages, Simone Spezzini, our team graphic designer, reinterprets them through vector graphics; he also edits the logo created by Fabrizio Piredda, responsible for EG graphics in order to make it more impressive. If a sentence is missing or a problem arises, we call our EG partner friends for advice. So, even if far away, the EG group is with us, virtually sitting at that table, helping us in the race against time.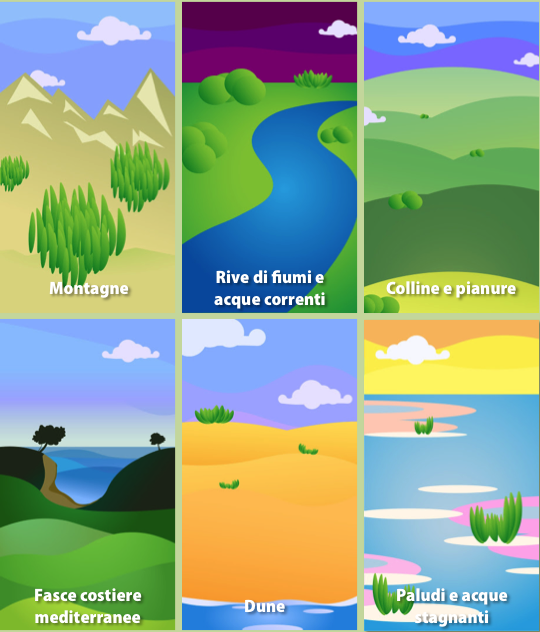 At the end of the second working morning ALIEN? works! We try it and we meet only small, easily solvable problems.
At 8 pm on 6 July the ALIEN? team delivers to the # SHU2019 organization both the finished app and the multimedia presentation that will show it to the other workgroups.
The game starts like any other videogame: a first page sets the rules and the challenge starts. One of the six habitats opens randomly (they are: mountains; river banks and running waters; hills and plains; marshes and stagnant waters; Mediterranean coastal strips; dunes) , a pop up text very briefly describes the habitat and then, in the lower half of the screen, the list of trees runs first followed by the list of animals. The icon of each species has two small buttons: the left one opens a pop-up text box with a brief description of the species, the right one triggers a voice recording with the same text. In the case of animals, you can even hear their voices.
Player can choose to add or not the species to the habitat by clicking on the buttons placed below the ones already described. If players add a species that lives in that habitat they score points, if they add a wrong species they o not; if they add 4 wrong species in a row game is over; if they add an alien species it's immediately game over. When players complete a habitat they can pass to the next one. The score of each habitat is also inversely proportional to the time spent and the mistakes made. This mechanism will allow, when the app is completely finished, to create a ranking among the players.

July 7, 9,30 a.m.
At 1 pm, after the presentation of the hackathon teams' products and the brunch offered by the organization, the # SHU2019 adventure is finished. There follow photos and greetings.
It seems strange to return to our houses after living for two days in a place we called "home". The app, our app, still needs a lot of work to be definitively delivered to the world. Our common decision is to finish what we have started and in order to do so, we will keep in touch through our chat group.
What remains to be done
An app? No, not just that. Indeed, we realize that ALIEN?, after all, was just a pretext. We had a wonderful and unrepeatable experience, we met new friends of all ages and each with a different type of high-level expertise: in Foligno the environmentalist world of EG came into contact with the apparently different but complementary world of professional ICT. Two passions blended. From this union there will surely start new developments and synergies that, although still in an embryonic state, it is easy to foresee as promising and productive in terms of educating kids to respect the Environment and Nature.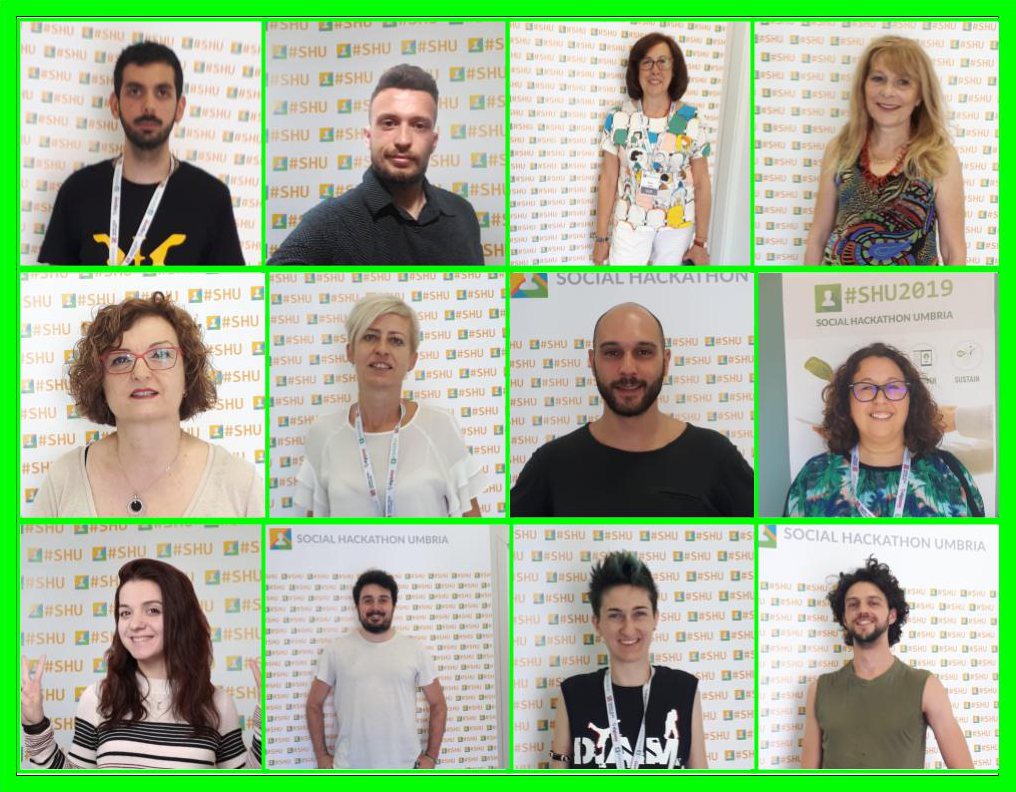 [1] Hackathon is an event involving computer experts: software developers, programmers and graphic designers. The term comes from the union of two terms: hack and marathon. A hackathon has variable duration. # SHU2019 lasted 48 hours.